These photos were taken at the AMC Empire 25 cinema on 42nd street near Times Square on July 28th, 2012.
Daniel Craig's James Bond slipping on the ice while firing Walther PPK.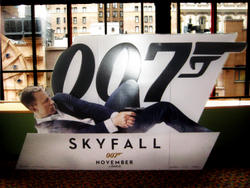 images are 3072x2304 ~ 5-6 MB in size.
p.s I've searched for 'standee' and 'cardboard' and 'marquee' and I didn't find any posts about this.